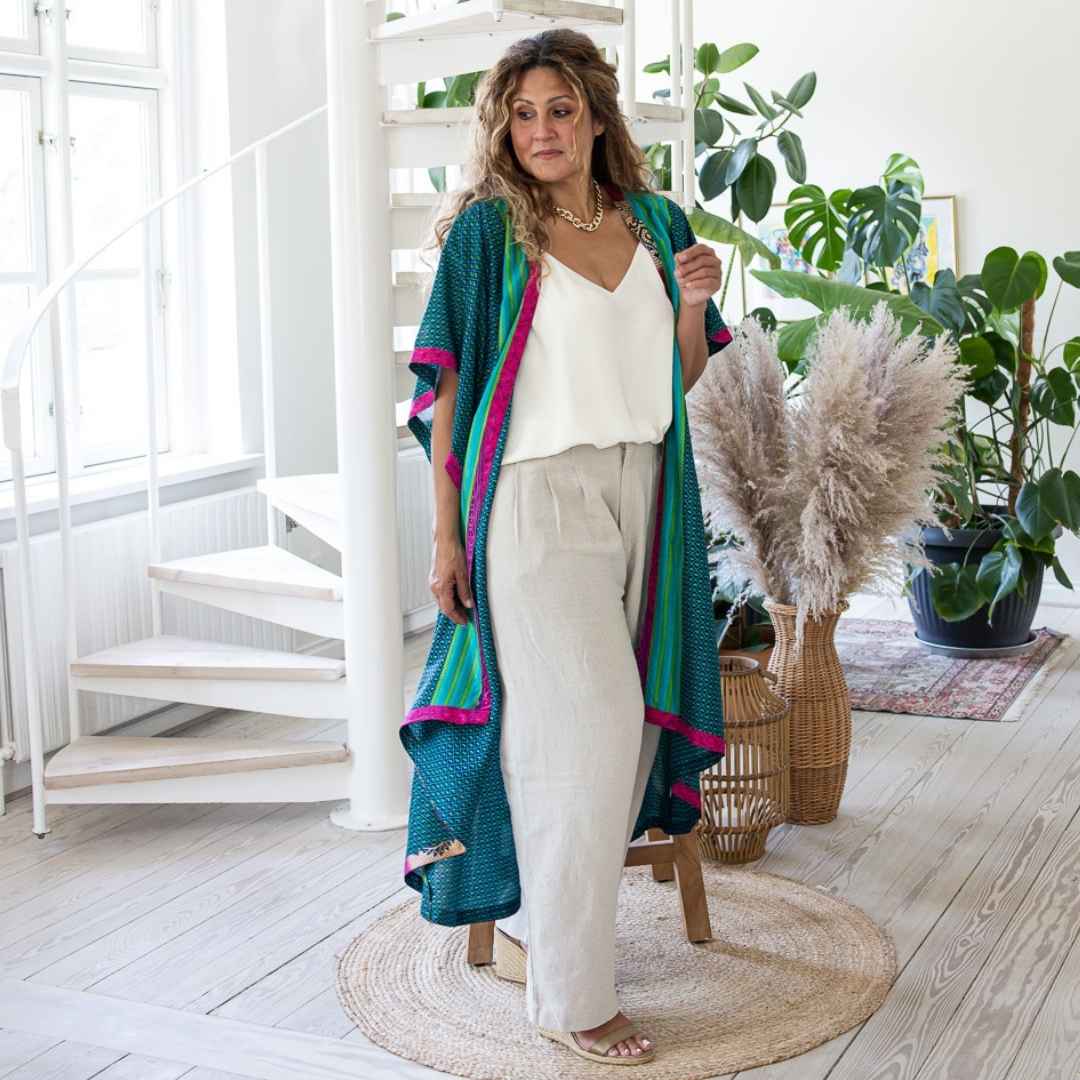 Exquisite materials
Our sarees are made from a fiber mix including silk in combination with other fabrics such as cotton, crepe, viscose or rayon. The fabric feels light, soft and exquisite and has the most beautiful silk sheen with the most beautiful colors and prints combinations. Since they are recycled, the original tags have been lost and therefore we can not indicate the exact fiber combination in our sarees. The most important thing for me is to recycle the already existing material, contribute with our sustainable production and protect the environment avoiding another "new production".
An infinite styling piece
Wear the kimono open over a pair of shorts or jeans and T-shirt or try pairing it with sneakers or sandals for a sporty look, or over a dress, skirt or your favorite jumpsuit in high heels for an elegant and festive outfit.
A kimono can also be worn as a flirty, light bathrobe to kickstart your day with the joy of colorful prints.
You can wear a kimono both in the summer season as a cover-up over your swimwear, by the pool or beach but also in the cooler winter months worn over a knitted sweater or long-sleeved blouse.
The kimono makes the perfect travel accessory as they do not take much space or weigh much in the suitcase. Besides, you can create many different looks with one piece of clothing.
A saree's Story kimonos are also perfect for expectant mothers or breastfeeding. They are perfect for the growing bump as it can be easily adjusted or used loosely over any outfit. The deep and adjustable V-neck also makes it easy to reach the breast when the little one needs to be breastfed.
If you do not want to ask your mother…
I recommend that you hand wash it in cold water and leave it to dry or wash at 30 degrees using a wool program and a washing bag if necessary. As the sarees are reused, minor imperfections can occur in the form of small stains or holes – a loving sign of it's journey and story. Hence, these are not subject to any warranty.
In the event you accidentally make a hole in your clothes, please mend it. If you don't want to use them anymore, kindly pass them on to a friend or give it to charity or create something new out of them.
Let these sarees live on … Wear it forward!
Who makes your clothes?
The sustainable styles of A saree's story are made in Delhi by a small family-owned business in an industrial area where the factories have high demands and strict control of the ethics relating to the production, salary and working conditions. Therefore and because of our close relation with the company and its owners, we know that the ethical values are observed and that the employees are treated as family. The clothes are made from old or used sarees that have been collected from small villages in India which means that each item is unique in its print.
In India, as an annual tradition in August when there's a full moon, sisters are praised by their brothers by being gifted a saree. Collecting unwanted and used sarees is a common activity for traders. The used sarees are exchanged for necessities such as pots, perfumes, wood, and paper by a trader who wanders in the remote villages. The sarees are then brought to the factory for gentle washing and sorting.
Every design is hand-made, adapted to the conditions of each saree and thoroughly checked for flaws before leaving the production.