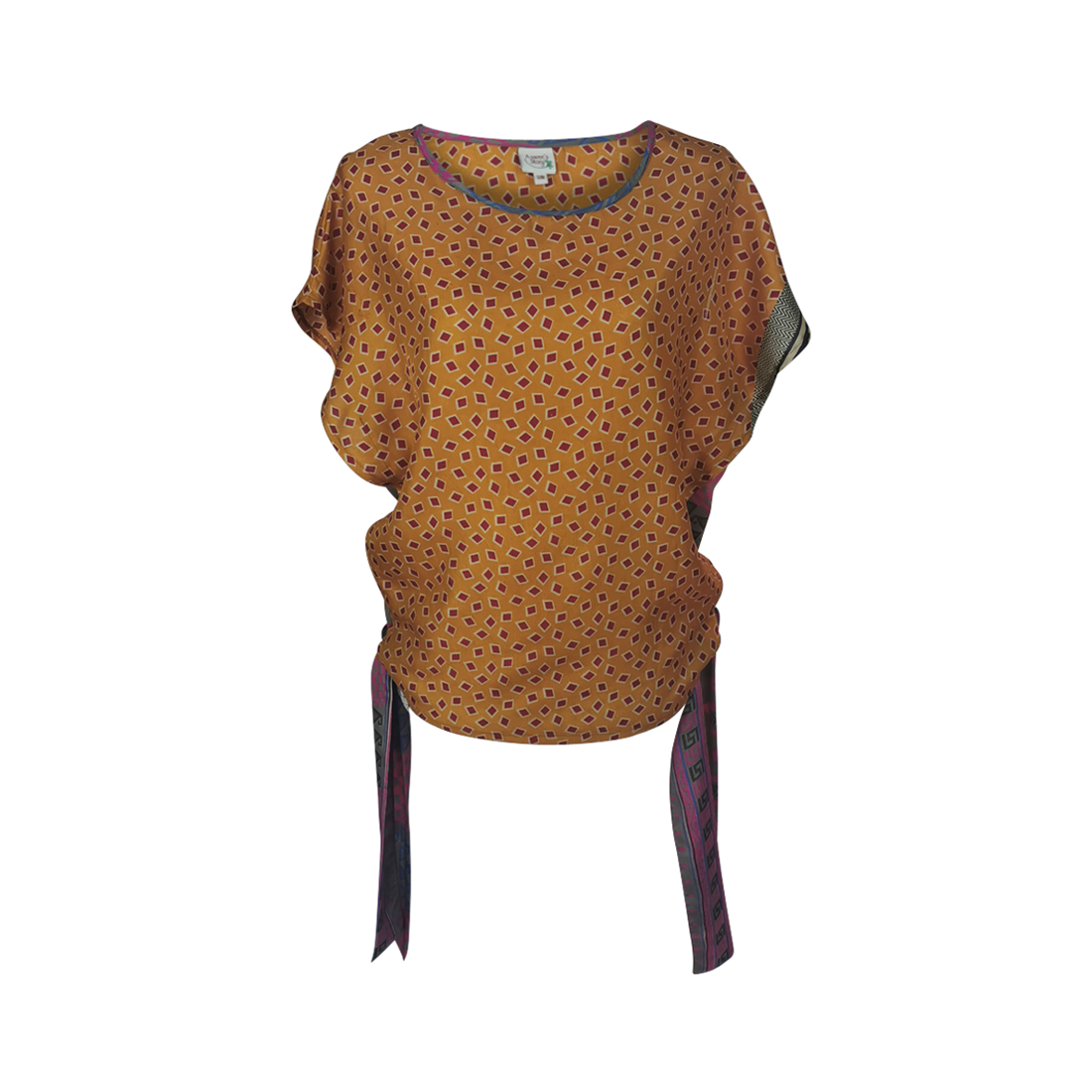 Blouses / Shirts
There are many different types of blouses and tops, in all shapes and designs created for various purposes and looks. They are an indispensable piece in everyone's wardrobes. Whatever style you choose, it will always be the finishing touch to any outfit.
This collection is inspired by the joy of life and femininity, yet in an elegant and relaxed way. The color mix and energizing prints, the shape and the exquisite materials emphasize your femininity and elegance, with sustainability as a priority. All our blouses are made from recycled sarees and produced following the slow-fashion movement principles, where environmental and ethical awareness are most important.
Each saree has a one-of-a-kind print, available in a stunning rainbow of color combinations. You will therefore find only 2-3 blouses made from the same saree and still they will never be completely identical. The blouses are individually made by talented seamstresses and tailors in a small family business in India.
When you choose to wear one of A saree's Story's styles you will stand out and have the opportunity to create awareness about upcycling, recycling, slow fashion and ethics in the most beautiful way.
The blouses in the collection can be worn at the office but at a party as well. They can easily be styled up and down according to the occasion. Whether for a nice stroll with friends, a meeting at the office or a birthday party. You will always emphasize your personal and unique style no matter how you choose to wear them..
In the collection you will find:
Box top
Classic and simple. A box top has a "box" cut, almost square, which is loose but flattering at the same time. We see them today in many variants, in shorter and longer versions and in different kinds of materials and styles. Common to all, is their versatility when styling, a real classic!
See Ingénue top
Tunic
Another classic! Tunics are known to be a style between a blouse and a dress. They are available in loose versions but also shaped, where the length can vary from hip length to above the knee.
See Duenna tunic
Kimono shirt
Inspired by the traditional HAORI jacket, we have created this kimono shirt. It is characterized by the wide sleeves, hip-length, and the thin collar. Kimono shirts are very practical as they can be used either closed or open as a short jacket. They can be styled with most outfits and can be worn both summer and winter.
See Birgitte kimono shirt
Strap Top
A strap top or sun top is known for the narrow and thin straps, reminiscent of underwear because it is inspired by lingerie. The strap tops are very versatile, they can be used as a discreet underlayer, under a shirt or dress, both to create a contrast and highlight a certain color. They look great as an extra layer over mesh or see-thru styles.
On a summer day, a strap top can be worn over a pair of shorts or jeans or perhaps over a T-shirt for a 90s Rachel look. Pair it with Nichy pants for a casual look or Cleopatra palazzo pants if you need to be elegant. Try a boho vibe styling it with our Susanne maxi skirt-dress.
Give your blazer, cardigan or shirt a colorful splash by using a strap top in a contrasting color underneath. Try it with our Birgitte kimono shirt. They can be styled in so many different ways and will expand your wardrobe to the maximum. Our strap tops fit most and will give you endless styling options.
See Rosita strap top
A sustainable rainbow
A saree's Story's main goal is sustainability. The materials used in our production are recycled, thus reducing clothing waste and the environmental impact of a "new production". It's a challenge I want to be a part of, to show that sustainability is anything but boring.
Colors are a common feature in the collection. You will find a rainbow of colors and the most beautiful print combinations that will lift your mood. The material is light and soft, a combination of various fibers mostly including silk.
The collection is made of used saris, collected in the villages of India. A saree is the women's primary garment in India. They carry on a beautiful cultural tradition that I would like to pass on to you. Their sarees have often been a gift from their mothers and grandmothers or their brothers passed down from generation to generation to mark an important day in their lives.
A saree's Story will continue these sarees' stories and journeys and make them a part of yours.
Well-dressed and yet relaxed
A saree's Story's blouses and shirts are made to be your favorites: you'll love the fit, quality and versatility!. The collection can be used for different occasions and all year round. They'll inspire you to get creative because of the many ways they can be styled. A blouse can change its looks, from sporty to festive or worn for a summer vacation but also worn for a Christmas party. Whichever model you choose, you, like me, would love to wear your A saree's Story blouses and shirts.
Ingénue, Duenna and Birgittewill fit expectant mothers as well as curvy sizes. They'll adapt to the growing belly as they can be adjusted or used loosely.
A saree's Story will continue the sarees' stories and make them part of yours.
The sarees are available in many types of fabric. A saree's Story uses sarees that are made of a silk mix, where the main part is silk mixed with fibers such as cotton, crepe, viscose or rayon. The combinations make the material stronger, can endure everyday use, are easily taken care of and still feels beautiful and exquisite. The fabric has the most beautiful silk gleam, which brings out the colorful print and feels soft and light to your skin.
The exact fiber content is impossible to list, as the original tags have been lost, but more importantly, I wish to protect the environment by reusing existing materials and make a difference.
Always feminine
When choosing a blouse from A saree's Story – regardless of what model you fancy – you will have the opportunity to create your own personal style. The collection is flexible and versatile and invites you to find your own style when selecting your outfits.
A saree's Story's tops and blouses are perfect for travelling; they're light and don't take up much space in your suitcase and you can create various looks with just one piece of garment.
No matter which style you create, you will always be uniquely dressed, but always with a feminine touch.