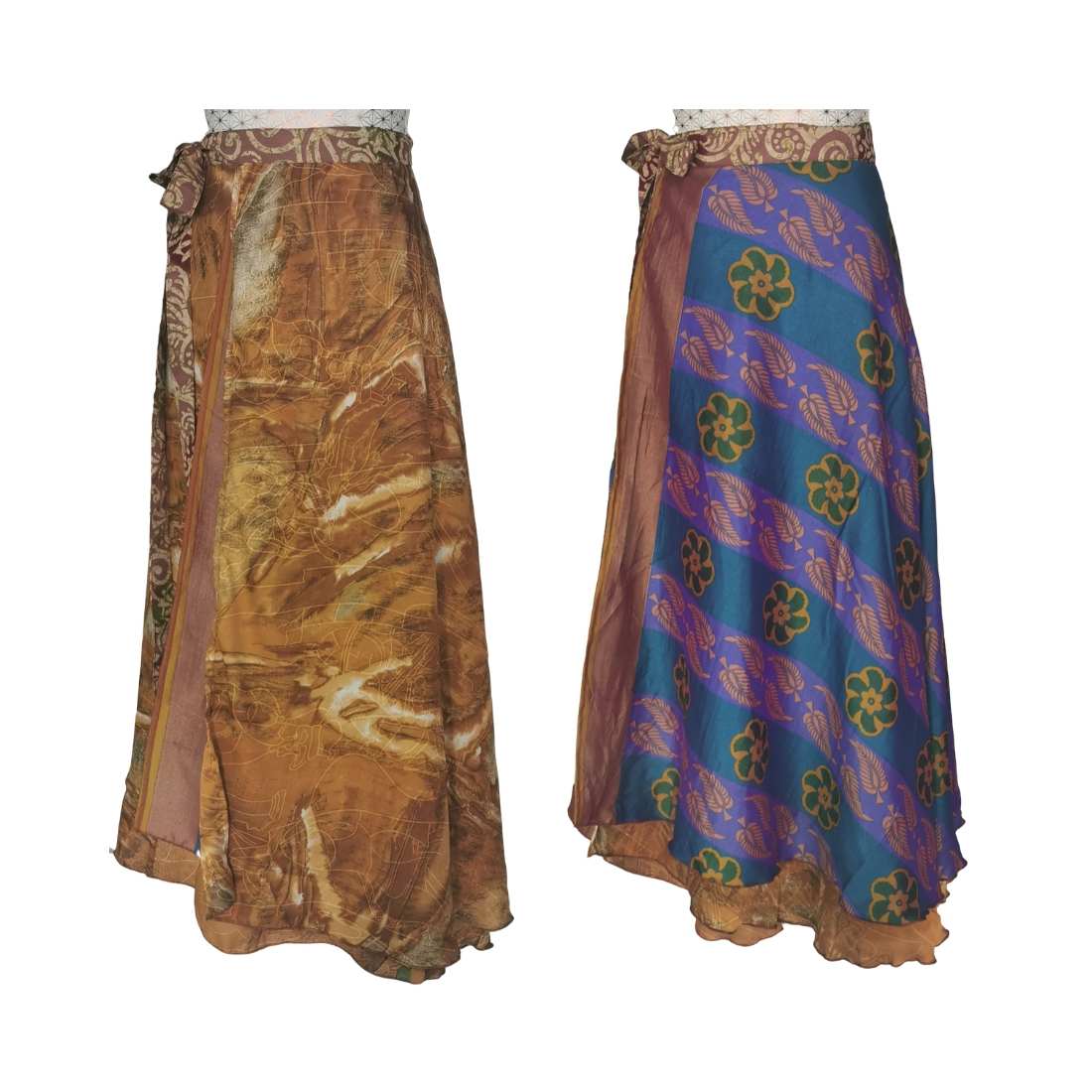 When freedom is everything
A skirt is an indispensable piece in our wardrobe - and we all have a favorite. They are a must-have in our basic wardrobe because they can be styled in many different ways and be worn for different occasions. Wearing a skirt will always make you feel stylish and elegant anywhere you go; at the playground, at the office, to a music festival or a wedding party. They are also more feminine and at times, far more comfortable to wear than a pair of pants – particularly in warm weather.
For this collection, I've created styles where the fit, versatility, femininity and uniqueness are a must, resulting in skirts you will cherish and wear for a long time. They've been manufactured in accordance with the principles of slow fashion where sustainability, small collections and ethical conditions have been given high priority with us at A saree's Story.
The skirts from A saree's Story are like a firework of color created from the most amazing reused silk sarees. I guarantee that you will excite admiration and good vibes everywhere you go. A great opportunity to raise awareness about recycling and showing that sustainability can also look beautiful and stylish.
You will own a unique piece of clothing that will always make you stand out and that you will love for many years to come. Each skirt is made from a unique saree, which means that there's only one print combination. The skirts are individually made in India by skilled professionals in a small, family-owned business.
The collection consists of:
The wrap skirts
A wrap skirt is characterized by the fact that it's full open without seams worn by wrapping it around the waist and hips then tied with a waist-belt. The way it's tied can vary according to each style – some are more complicated than others.
The wrap skirts originate from ancient Egypt, where the men would wear them as standard clothing that later developed into a kind of dress which would be tied across the chest and had ankle length. Today, we see the wrap skirts in various cultures for instance the pareo from Tahiti, the Scottish kilt, the sarong from South Asia and the Indian saree among others – but the best known one is the classical model from the 60s.
See Coquette wrap skirt
The pant-skirt
If you want the best of two worlds, the pant skirt is your choice. This type of pants combines the femininity of a long and wide skirt with the practicality of a pair of pants. The pant-skirt was first seen in the Victorian age, when women started riding astride and needed a pant-like skirt which many years later (and many ordeals later) would give the women the freedom to wear regular pants.
Today, they're available in many different designs and styles, but the common denominator is the stylish 70s look which has returned to the street scene.
See Godiva pant-skirt
Maxi skirt
A maxi skirt is characterized by its length. Shortest to go down to under the calf or down to the floor as the longest. A full-length skirt is a must-have in our wardrobes. They add elegance, grace and romance to our outfits in an easy and simple way. The maxi skirt is the epitome of femininity and bohemian vibes. They make a beautiful and versatile alternative to pants both summer and winter. They can easily adapt to your moods and can easily be styled for all your social occasions .
See Susanne skirt-dress
No matter which type of skirt you choose, the styles from A saree's Story will stand out because of the colorful prints, the exquisite material and the amazing fit. You will always have a piece of clothing which will spark conversation and admiration and bring awareness to recycling and sustainability.
Exquisite material with a good story
A saree's Story only uses reused Indian sarees to make these creations. A saree is the traditional Indian garb for women, consisting of many meters of fabric which they tie around their bodies in a masterly fashion. These sarees are often passed on through generations and gifted to the women on red-letter days. This way they form a bond between them and create a story which continues its journey with each saree.
A saree's Story will continue the sarees' stories and make them part of yours.
The sarees are available in many types of fabric. Anything from pure silk to cotton to synthetic material is possible. A saree's Story uses sarees that are made of a silk mix, where the main part is silk mixed with fibers such as cotton, crepe, viscose or rayon. The combinations make the material stronger, can endure everyday use, are easily taken care of and still feels beautiful and exquisite. The fabric has the most beautiful silk gleam, which brings out the colorful print and feels soft and light to your skin.
The exact fiber content is impossible to list, as the original tags have been lost, but more importantly I wish to protect the environment by reusing existing materials and make a difference.
Always feminine
When choosing a skirt from A saree's Story – regardless of what model you fancy – you will have the opportunity to create your own personal style. The collection is flexible and versatile. It triggers creativity when selecting and matching your outfits.
If you want to achieve a relaxed look, try styling your skirt with the Ingenue top or a knitted sweater and a pair of sneakers or with a t-shirt and flip-flops for the summer. If you're going to a party you can turn your skirt into an elegant and festive outfit just by changing your sneakers into a pair of heels and a silk blouse – and maybe completing your look by daring to wear one of the Virago bomber jackets in a contrastive matching print.
The collection is perfect for the summer, for a laid-back stroll in the city or if you want to look stylish at the beach.
Pairing your skirt with a roll neck shirt, a woolly jumper or knit-wear and boots, you will be able to enjoy your skirt for longer and bring color into the darker seasons.
A saree's story's skirts are perfect for travelling; they're light and don't take up much space in your suitcase and you can create various looks with just one piece of garment.
The skirts are one-size and/or adjustable. If you're expecting, you can enjoy both the Godiva pant skirt or Coquette wrap skirt, as they will adjust to your growing bump.
They will også fit a curvy plus size.
No matter which style you create, you will always be uniquely dressed, but always with a feminine touch.
If you don't want to ask your mother …
I recommend that you hand wash it in cold water and leave it to dry or wash at 30 degrees using a wool program and a washing bag if necessary. As the sarees are reused, minor imperfections can occur in the form of small stains or holes – a loving sign of it's journey and story. Hence, these are not subject to any warranty.
In the event you accidentally make a hole in your clothes, please mend it. If you don't want to use them anymore, kindly pass them on to a friend or give it to charity or create something new out of them.
Let these sarees live on … Wear it forward!
Who makes your clothes?
The sustainable styles of A saree's story are made in Delhi by a small family-owned business in an industrial area where the factories have high demands and strict control of the ethics relating to the production, salary and working conditions. Therefore and because of our close relation with the company and its owners, we know that the ethical values are observed and that the employees are treated as family. The clothes are made from old or used sarees that have been collected from small villages in India which means that each item is unique in its print.
In India, as an annual tradition in August when there's a full moon, sisters are praised by their brothers by being gifted a saree. Collecting unwanted and used sarees is a common activity for traders. The used sarees are exchanged for necessities such as pots, perfumes, wood, and paper by a trader who wanders in the remote villages. The sarees are then brought to the factory for gentle washing and being sorted.
Every design is hand-made, adapted to the conditions of each saree and thoroughly checked for flaws before leaving the production.
To me, reusing old sarees and using leftovers scraps from the production, is an amazing and creative way to create new clothes … rescuing something that would otherwise end up in a waste dump. The best challenge!